Eagle Scout Project Cleanup at Beekman Friends Cemetery
Boy Scout Cooper Kasin from Troop 77 in Poughquag lives in Lagrangeville near the site of the Beekman Meeting House, corner of Emans Road, and Friends Cemetery, around the corner on Pulling Road. Since he was a Cub Scout he has visited this sanctuary with his Dad, an Eagle Scout who passed away in 2020. Cooper decided to commit to the idea of cleaning up and restoring this historic cemetery for his own Eagle Scout Project, starting with the hidden pathway to the site.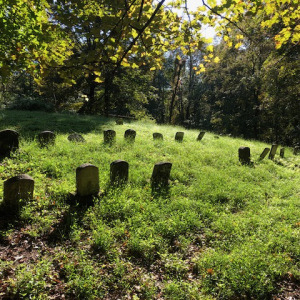 He researched the cemetery. He attended Poughkeepsie Friends Meeting (the nearest Quaker Meeting which is held at Oakwood Friends School) to get a sense of what Quaker Meeting is like and to make a presentation about what he'd like to accomplish. With permission from Poughkeepsie Friends, he then handed out flyers of his intent to clean the overgrowth of the cemetery to the neighbors. Cooper began his project in June 2023, leading an enthusiastic team of Scouts to clear broken limbs, fallen trees and brush, first up the wooded, quarter mile path and then into the cemetery.
Cemetery Cleanup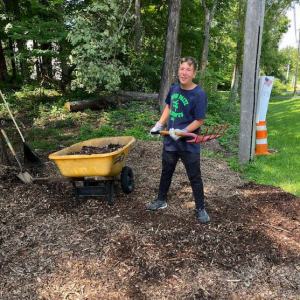 The cemetery is sandwiched between residential houses and set back off the road. Cooper was able to obtain a donation of a large dump truck load of mulch for the pathway to the cemetery (from Red Wing) after it was cleared.
In addition to clearing the pathway, the Scouts were able to re-establish the perimeter of the cemetery which is surrounded by a wire fence. They weeded and cleared the grounds to show standing gravestones and they found additional stones in the ground, and others neatly clustered together, some broken. This included over a dozen simple gravestones with only initials of the deceased, signifying that Modesty and Simplicity was preferred even in death. This work was done respectfully and gently, restoring dignity to the grounds. Cooper and his mother, Margaret Kasin provided signage for the cemetery inside its gate.
The rainy summer of 2023 produced a microburst storm that brought down more trees and limbs after the initial cleanup and before the summer concluded. That storm created a mess and challenged the Scouts; it was the subsequent cleanup that resulted in a more manicured look. Here you can see more testament to the settlers of early Dutchess County. Family clusters, an individual born in 1741, another (perhaps the latest) buried in early 1940s makes us interested and curious in all of the 107 total graves purported to rest here.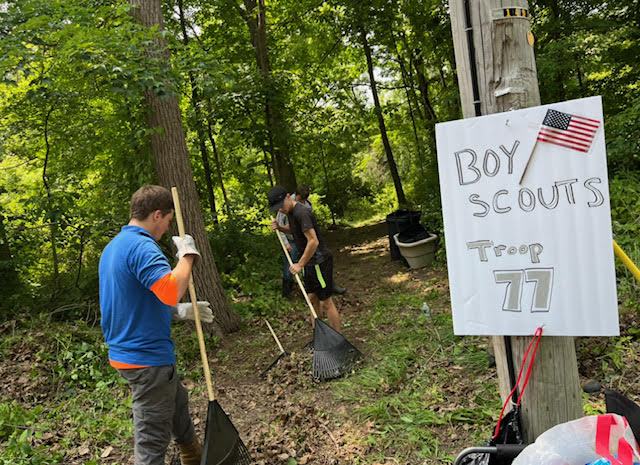 Cooper's initial plan in addition to cleaning up the site was to create stone rubbings and upload them to the "Find a Grave" website. Later research found that the cemetery had already been documented on the website but under the name "Arthursburg Friends Ground Memorial". Grave stones were lightly brushed but not cleaned. Never the less a few rubbings were done.
As of September 1 the Project was completed and a recent walk-through elicited the feeling and knowledge that a tremendous amount of work, uncovering an incredible historical timeframe, done by a team of young men from Boy Scout Troop 77, led by Eagle Scout Cooper Kasin, will be appreciated by generations to come.
History Beekman Meeting House and Friends Cemetery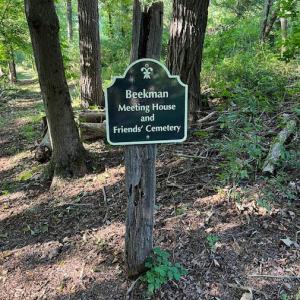 In the 18th century Quakers moved into Dutchess County from New England and regions of the colonies "to live lives closer to nature and God." Beekman Friends Meeting was founded just before 1800. By 1809 it had grown quickly and a larger Meeting House was built, the remains of house wall and retainer stone walls are located on Emans Road, next to a pond teeming with natural beauty and wildlife.
The cemetery is located off Pulling Road 600 feet southeast, across the road and around the corner from Emans, on higher, dry land. By the early 20th century, Beekman membership had declined and by 1920 the Meeting House for a time became a Grange Hall. It has been vacant for many, many decades. Today both Beekman Meeting House which is privately owned, and Friends Cemetery are listed in the National Register of Historic Places.
BOY SCOUTS OF AMERICA
SCOUT OATH
On my honor I will do my best to do duty to God and my country and to obey the Scout law;

To help other people at all times; to keep myself physically strong, mentally awake and morally straight.
SCOUT LAW
A Scout is trustworthy, loyal, helpful, friendly, courteous, kind, obedient, cheerful, thrifty, brave, clean and reverent.
SCOUT MOTTO
Be prepared.
SCOUT SLOGAN
Do a good turn daily.