Lynne James has been a member of the Poughkeepsie Friends Meeting since 1978, but she's been a Quaker all her life—a "birthright Quaker" with a family tree with roots that go back to William Penn and colonial America. Lynne's Quaker ancestors arrived from Wales and settled in Radnor Township, Pennsylvania in 1682.
But Lynne makes clear that it is not the lineage that is important. That's just a fact of the matter that might help understanding that a Quaker is who she is. "I am steeped in being a Quaker," she explains. "Simplicity, equality, social justice, peace, nonviolence and, especially now, earth care…the essence of Quakerism has spoken to me since I can remember."
She also recalls something her parents frequently told her: "Let your life speak."
Born in Philadelphia, Lynne was first a member of Moorestown Friends Meeting in New Jersey. After elementary school, she and her sister, Susan, and their parents moved, transferring their memberships to Radnor Friends Meeting and Pennsylvania Yearly Meeting until Lynne transferred her membership to Poughkeepsie Friends Meeting in 1978.
Her mother, Jane, was an English teacher and librarian at Moorestown Friends School and Friends Central School. Lynne's father, Bill, was a conscientious objector and performed alternative service in the Navy during WW II.
But Bill's first love was working with his hands, rebuilding wooden sailboats.  For Lynne, the hours spent working closely with her father are among her fondest memories and their time together, out in nature, on the beaches and waters of the Jersey Shore.
"I went to silent meeting for worship from the time I was born," she says, remembering the straight wooden bench she sat on and the tree that she would watch move and grow outside a particular window in the Meeting.
At the Poughkeepsie Meeting for Worship, Lynne always sits in the same spot— on a straight wooden bench across from the windows where she can see the trees.
"God is Nature," she explains. "This is my spirituality. A tree, the song of the bird, the ocean, a small bug—this is who God is to me."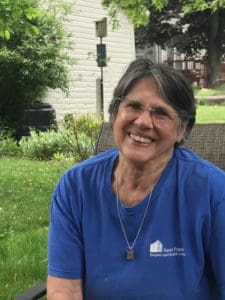 Lynne's been a vegetarian for much of her life because she couldn't make herself eat something that was a living being, "There's such a strong sense of connection between me and the bird singing in the tree and the bug that I didn't kill this morning. We are all one".
It's the same sensation that she feels in silent worship. "I don't know how to name it," she continues. "Spirituality is too small a word. It's a mystery. And it's for always."
In 1962, when Lynne entered Ithaca Conservatory of Music at 17 as a string major, her dream was to play the viola professionally, but life took a different turn. Lynne lost both parents early in her college career.
She met her future husband in her senior year, and had a Quaker wedding at Moorestown Friends Meeting. They had two children, William and Melissa, and moved as a family to Minnesota, where her husband continued to work for IBM. They returned to the East Coast to live in Wappinger Falls, but the marriage ended.
Her first step out in her life as a single parent was to find a Quaker Meeting, and it brought her to the Poughkeepsie Friends Meeting House in 1978. When she asked the Meeting for help finding a place to bring up her children, Peg Keiser from the Meeting walked her around the corner to a house on Parkwood Boulevard that might be for sale. It had one bush in the backyard when Lynne bought it on the spot.
She went on to plant a life there, raising her children and bonding with the earth. Poughkeepsie Friends, New York Yearly Meeting Summer Sessions at Silver Bay, and Powell House weekends were all a strong Quaker presence in her children's formative years, living in the house Lynne's grandchildren now know.
Spirituality and environmental activism blended in many years of volunteering in Pete Seeger's Clearwater Hudson River revival movement. She has stood in peaceful, silent demonstrations with Women in Black and marched for climate change, including the 2014 People's Climate March (PCM) in New York City that saw more than 300,000 participants advocating for global action against climate change.
Her childhood love of working with her hands next to her father and playing with clay on a potter's wheel at art camp led her to a ceramics career and starting Riverstone Pottery. Her work is inspired by "the smoothly textured surface of a rock, a seed pod, a shell, a walk in the woods."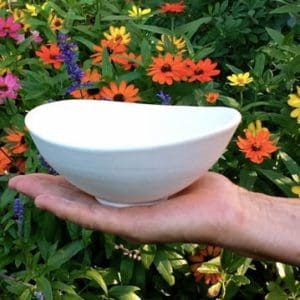 And her backyard with the one bush has bloomed under her loving care into a sanctuary for all creatures and plants, big and small, who come there. Lynne has built the outdoor deck and arbor, and planted the gardens and welcomes every butterfly, bird and bug that visits.
She went back to school at Orange County Community College to get a degree in occupational therapy. Since then, she worked with special needs and multiply- handicapped students. Her teaching went on after her retirement as a substitute at the Wimpfheimer Preschool at Vassar College.
In 2017, Lynne was diagnosed with breast cancer. She remains extremely grateful for all the love and caring and support she received from Poughkeepsie Friends. Although she never did go on to play viola in an orchestra, music is the soundtrack of her life and can always be heard at the close of her day.
Lynne wrote to her kids and told them if they wanted a memorial service for her when the time came, she didn't want anything fancy, but she did want them to play only one song—Pete Seeger's To My Old Brown Earth that, for Lynne, says all that needs to be said.
To my old brown earth
And to my old blue sky
I'll now give these last few molecules of "I."
And you who sing,
And you who stand nearby,
I do charge you not to cry.
Guard well our human chain
Watch well you keep it strong
As long as sun will shine.
And this our home
Keep pure and sweet and green,
For now I'm yours
And you are also mine.